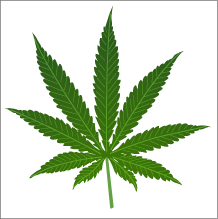 Cannabis, more commonly known as marijuana, is illegal in the state of Illinois. Despite the Compassionate Use of Medical Cannabis Pilot Program Act (410 ILCS 130/1) becoming effective as of January 2014, recreational use, distribution, and sale of marijuana in any quantity remains a crime in the State of Illinois. Many people downplay the severity of being charged with a marijuana offense, though such a conviction can have a significant impact on your personal and professional life.
The punishments associated with marijuana possession vary depending on the quantity of marijuana involved, the amount of previous convictions the offender has, and where/how it is being sold to others, if the charge is for delivery of marijuana. According to 720 ILCS 550/4, the sentencing guidelines are as follows:
Up to 2.5 grams – Class C Misdemeanor -$1,500 fine and/or up to 30 days in jail;
2.5-10 grams – Class B Misdemenor – $1,500 fine and/or up to 6 months in jail;
10-30 grams – Class A Misdemeanor – $2,500 fine and up to 1 year in jail for a first offense. Subsequent offenses are class 4 felonies with fines up to $25,000 and 1 to three years in jail.
30-500 grams – Class 4 felony – $25,000 fine and 1 to 3 years in jail for a first offense. Subsequent offenses are class 3 felonies with fines up to $25,000 and 2 to 5 years in jail.
Some people mistakenly believe that with the legalization of marijuana for medicinal purposes, everyone is allowed to use marijuana recreationally. They may also think that enforcement of marijuana offenses is lessening, but this is not the case. Even if you obtain marijuana from a friend or colleague who is entitled to legally possess it due to a qualifying medical condition, this cannot be shared for recreational use with others. Absent possessing a valid identification card issued by the Department of Public Health, you are not entitled to use marijuana even if it has been issued by the state to another person.
Some offenders may be eligible for court supervision, the successful completion of which will allow dispose of the criminal case. There are many options for first time marijuana offenders especially that may result in no conviction being entered on your criminal record and it is important to understand all of your options before entering a plea agreement or pleading guilty to a crime you may have not committed.