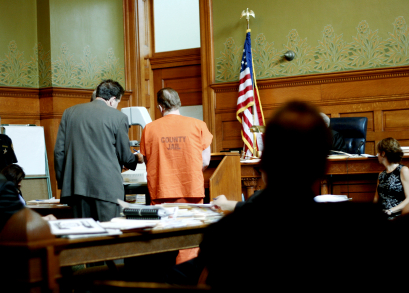 In Illinois, sex offenders who the State feels are still a threat to society can be locked up indefinitely. In order to prevent a convicted sex offender from being released from jail, the State is required to file a Petition no more than 90 days before an inmate is scheduled to be released from custody. The Sexually Violent Person Act is codified at 725 ILCS 207 et. seq., and requires the State to prove the following:
A)    The named person has been convicted of a sexually violent offense; or
B)     The named person has been found delinquent for a sexually violent offense; or
C)    The named person has been found not guilty of a sexually violent offense by reason of insanity, mental disease or mental defect.
D)    The  person has a mental disorder;
E)     The person is dangerous to others because the person's mental disorder creates a substantial probability that he or she will engage in acts of sexual violence.
Prior to trial, the person will be evaluated by State hired psychologists to determine is the person has a mental defect. The respondent is also entitled to have the State pay for an expert of his own to evaluate his mental state. Even though the SVP statute is considered civil in nature, the statute does grant the respondent almost all the rights and protections as a criminal proceeding.
If a person is found after trial, to be sexually violent, they are committed to the Illinois Department of Health for treatment. Sex offender treatment is very long and involved and can take years to complete even under the best of circumstances. Many times those who are committed will never be released from the custody of DHS. The statute does allow for a person to released into the community if appropriate treatment options are available. However, there are strikingly few treatment facilities that are capable of administering the intense treatment the State says it would require to agree to release an individual back into the general population.
Unfortunately, the majority of those individuals who go to trial on an SVP petition are found to be sexually violent and committed indefinitely.